Agriculture auction software designed for farm agricultural auctioneers
Are you looking for an agriculture auction software solution to drive your agricultural clearing sales online? Then we can help!
Online auctions are a great way to generate bidder engagement and sell agricultural assets online.
We provide agricultural auctioneers all over the world with a state-of-the-art online auction platform to run their own agricultural sales online. We have over 15 of experience helping auctioneers just like you run online sales. We are trusted partners to many agriculture auctioneers.
The software enables your bidders to
bid in real-time
. You bidders will love it.
Our software is built using the latest web technologies, giving your bidders the flexibility to run auctions seamlessly off any modern device and browser, without the need to download apps.
Our software is easy to set up and easy to use, with no start-up costs and set-up fees. Training is provided as standard and worldwide support comes as standard with each and every one of our auctions.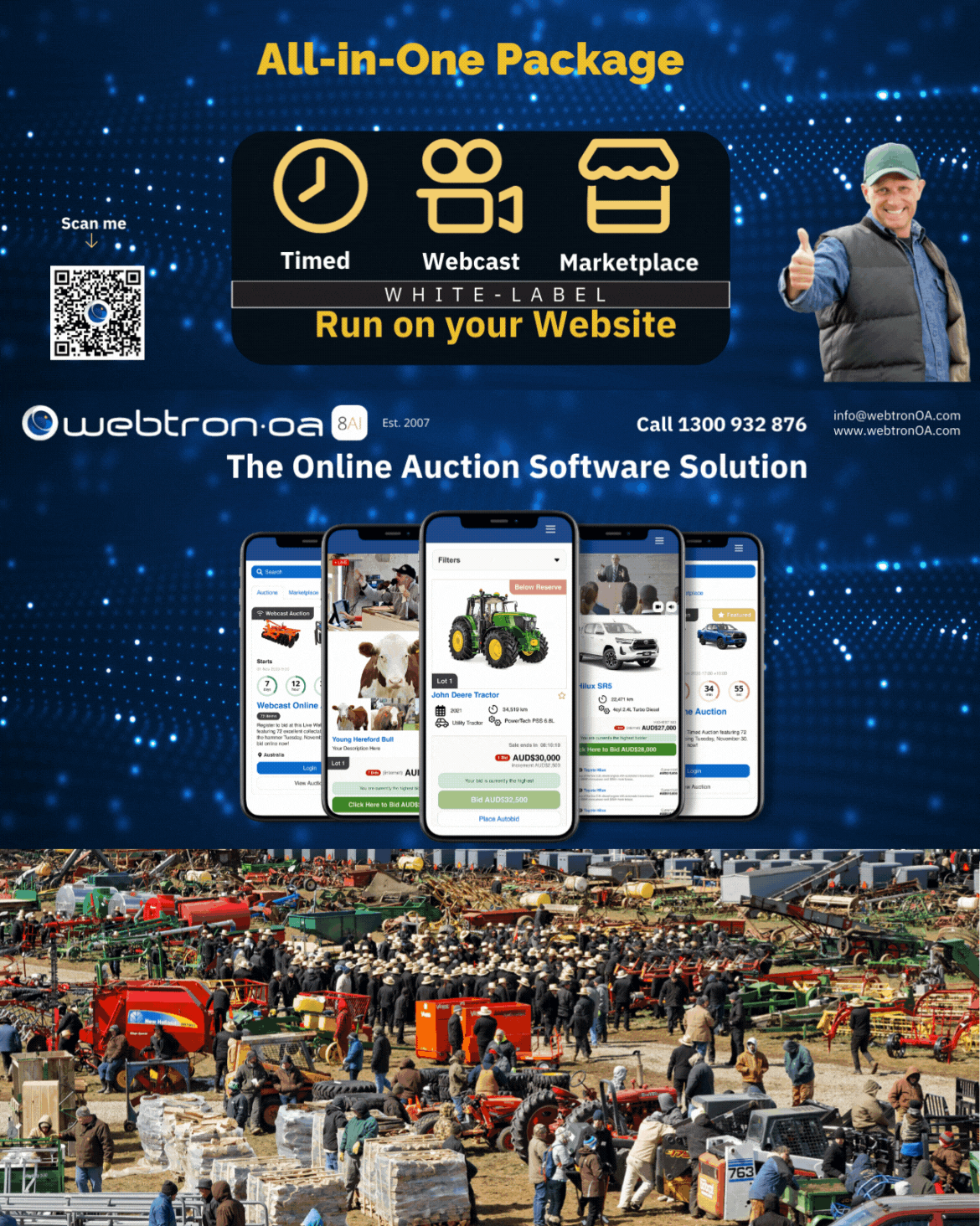 Are you selling these assets? If so you then we can help
🚜 Tractors , Vehicles & Bikes
🚜 Farm & Earthmoving Equipment
🚚 Trucks & Trailers
🛠 Tools
🐄 Livestock
🌾 Hay & Wheat
🔨 General Farm
🚰 Pumps & Generators
🖼 Estate Clearing Sales & Collectables
🪑Furniture & Household goods
🏡 Buildings & property
We provide you with all the agriculture auction software tools you need
Our software is includes timed, webcast, pre-bid, and online marketplace sale configurations all in one system.
No internet in the field. No worries! You can still conduct live auctions without the internet with our remote auction software solution.
You can add detailed lot descriptions, as many pictures as you like, PDF's and videos.
We will provide your own online hub to sell agricultural assets (AG), livestock, farm machinery, general and clearing sales from your own website.
With all of this functionality at your fingertips, it's hard to believe it can get better, but it does!
Auction administrators have access to useful sale management features such as lotting templates, bidder management, detailed reporting, invoicing and much, much more. We will supply you with everything you need to get your agriculture auction pumping online.
Agriculture auction software & solutions for your business
🎥 Live Webcast Auctions
⏳ Timed Online Auctions
📈 Marketplace
👩‍💻 Remote Clerking option
✅ Everything you need & will run from your own website
🏷 White Label Auction Software – 'value protect your bidders & IP' ( Not a group site
)
So modern works on all devices without frustrating bidders to download apps
🧑‍💻 Includes Setup, Training & Local Ongoing Support
🧾 Auction invoicing & reporting
🖥 Websites & marketing
😊 Simple for bidders and powerful for auctioneers
So ready to get started?
NEW Webtron 8.0AI Auction Platform Is Here!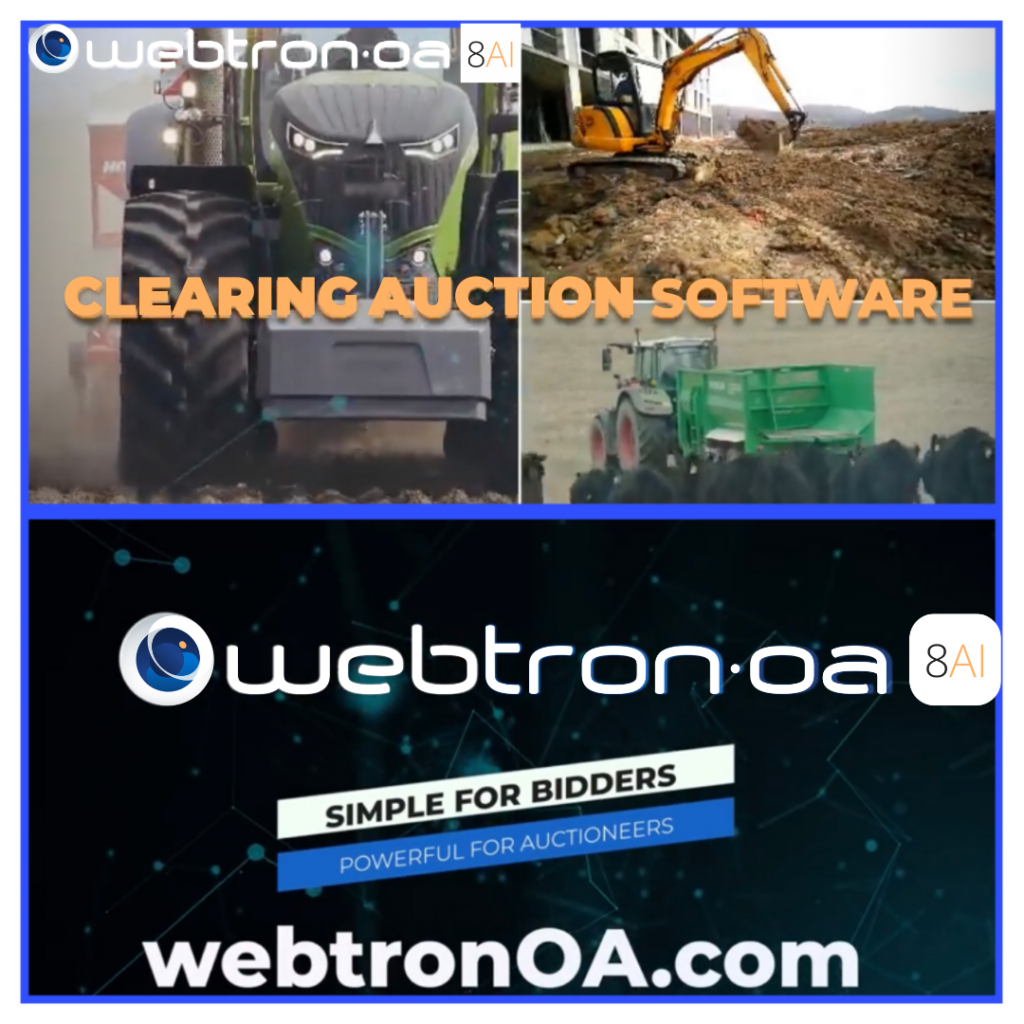 We have been assisting agriculture auctioneers just like you since 2007 in expanding their online auction businesses. The moment has come to update your online auction software to Webtron's most recent edition, version 8.0AI.
An online auction service with a white label that works with your own website.
Webtron 8.0AI is, "Simple for bidders, powerful for auctioneers."

Contact us to set up a software demo for your company online.
FAQs
What is Agricultural auction software, and how does it work?
In order to manage their bids, and other auction-related chores specifically for agricultural equipment, machinery, and animals, auctioneers might use specialised management software called "Agricultural auction software." A user-friendly interface is often provided, enabling auctioneers to enter, manage, and track information about their auctions and goods.
What are the features of the best Agricultural auction software for auctioneers?
The finest agricultural auction software for auctioneers often comes with options for marketing, customer relationship management (CRM), reporting and analytics, bidding and auction management. To satisfy the particular requirements of the AG auction house, it should also be user-friendly and adaptable.
Can Agricultural auction software help me with marketing and promoting my auctions?
Yes, the marketing and promotion capabilities offered by Webtrons' agricultural auction software systems include email campaigns, social media integration, and the ability to create online catalogues. With the aid of these features, you will expand your target market and increase interest in and bids on your auctions.
How can AG auction software improve the bidding experience for my customers?
Through the provision of a user-friendly online bidding platform, real-time bidding updates, and secure payment processing, AG auction software may enhance the bidding experience for your clients. Additionally, it can assist you in creating thorough item descriptions and images, which can aid bidders in making more informed purchase decisions.
Are there any training or support resources available for learning how to use AG auction software?
Yes, Webtron provides training and support materials including user manuals, customer assistance and video tutorials. To guarantee that you receive the most value out of your software investment, it's critical to select a software vendor that provides thorough training and support.
Get in touch by filling out your details below.