Agriculture auction software designed for farm agricultural auctioneers
Are you looking for an agriculture auction software solution to drive your agricultural clearing sales online? Then we can help!
Online auctions are a great way to generate bidder engagement and sell agricultural assets online.
We provide agricultural auctioneers all over the world with a state-of-the-art online auction platform to run their own agricultural sales online. We have over 15 of experience helping auctioneers just like you run online sales. We are trusted partners to many agriculture auctioneers.
The software enables your bidders to bid in real-time. You bidders will love it.
Our software is built using the latest web technologies, giving your bidders the flexibility to run auctions seamlessly off any modern device and browser, without the need to download apps.
Our software is easy to set up and easy to use, with no start-up costs and set-up fees. Training is provided as standard and worldwide support comes as standard with each and every one of our auctions.
Are you selling these assets? If so you then we can help
🚜 Tractors , Vehicles & Bikes
🚜 Farm & Earthmoving Equipment
🚚 Trucks & Trailers
🛠 Tools
🐄 Livestock
🌾 Hay & Wheat
🔨 General Farm
🚰 Pumps & Generators
🖼 Estate Clearing Sales & Collectables
🪑Furniture & Household goods
🏡 Buildings & property
We provide you with all the online auction tools you need
Our software is includes timed, webcast, pre-bid, and online marketplace sale configurations all in one system.
No internet in the field. No worries! You can still conduct live auctions without the internet with our remote auction software solution.
You can add detailed lot descriptions, as many pictures as you like, PDF's and videos.
We will provide your own online hub to sell agricultural assets (AG), livestock, farm machinery, general and clearing sales from your own website.
With all of this functionality at your fingertips, it's hard to believe it can get better, but it does!
Auction administrators have access to useful sale management features such as lotting templates, bidder management, detailed reporting, invoicing and much, much more. We will supply you with everything you need to get your agriculture auction pumping online.
Online auction solutions for your business
🎥 Live Webcast Auctions
⏳ Timed Online Auctions
📈 Marketplace
👩‍💻 Remote Clerking option
✅ Everything you need & will run from your own website
🏷 White Label Auction Software – 'value protect your bidders & IP' ( Not a group site
)
So modern works on all devices without frustrating bidders to download apps
🧑‍💻 Includes Setup, Training & Local Ongoing Support
🧾 Auction invoicing & reporting
🖥 Websites & marketing
😊 Simple for bidders and powerful for auctioneers
So ready to get started?
The NEW Webtron 7.0 Auction Platform has now been released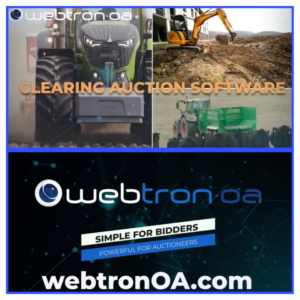 Now is the time to upgrade your online auction software to Webtron's 7.0 newest auction software release. Since 2007 we have been helping agriculture auctioneers just like you take their online auction business to another level.
A white label auction solution that runs from your own website.
It's 'Simple for bidders and powerful for auctioneers'.
Please get in touch and arrange a demo for your business.
Get in touch by filling out your details below.